UTAS PhD Graduation Gown
UTAS PhD Graduation Gown
$270.00
This product is the GOWN ONLY. Purchase the full set of the UTAS PhD graduation gown, hood and bonnet here on our website

Certified Australian-made, tailored by us in Melbourne.

Select from superfine wool, wool/poly blend or polyester base fabrics.
Fabrics selected by us for the perfect weight and drape of academic dress.

Quality garment construction techniques and reinforced hand-pleating.
Perfectly-pressed vivid faculty colours.
Gowns sent to you with a complimentary robe bag for garment care.
All our academic dress is made to university specifications. We guarantee the quality of our garments and after-sales service.
University of Tasmania PhD academic regalia consists of a black gown with red facings and cuffs. The Oxford style hood is made in red and fully lined in matching colour. The black velvet bonnet has a red cord and tassels.
Due to popular demand, our website now caters for international orders.
Refer to the tabs below for information regarding gown sizing, headwear sizing, our fabric types and garment care advice.
Our family have been making regalia for 75 years. Thank-you for supporting Australian made.
We look forward to being of service!
Sizing of graduation gowns is generally determined by a person's height. This is a universal method of sizing for most ceremonial gowns as worn within Australia.
There are increments to each gown size. For example, size small = sizes 40 - 44. This means that a size 40, 42 and 44 all have the same yoke size (shoulder width) while the length of the gown differs.
| Gown | Size | Height cm / ft |
| --- | --- | --- |
| XS - Extra Small | Size 38 | 147cm / 4'8 |
| S - Small | Size 40 | 152 cm / 5' |
| | Size 42 | 157cm / 5'2 |
| | Size 44 | 162 cm / 5'4 |
| M - Medium | Size 46 | 168 cm / 5'6 |
| | Size 48 | 173 cm / 5'8 |
| | Size 50 | 178 cm / 6'0 |
| L - Large | Size 52 | 183 cm / 6' |
| | Size 54 | 187 cm / 6'2 |
| | Size 56 | 193 cm / 6'4 |
| XL - Extra Large | Size 58 | 198 cm / 6'6 |
If you have broad shoulders or require more width to your robe, consider the next size up.
Gowns are intended to be loose-fitting. In Australia, gowns are typically worn open at the front over existing clothing and should be mid-to-lower-calf length. The length and drape of a robe make a difference to the overall look, and we recommend that a longer gown will look more elegant and better fitting. For example, if you are 170 cm tall, which falls between a size 46 and size 48, go for the size 48.
Do not wear bulky clothing under an academic gown.
We offer a special fitting service for gowns for purchase. Please contact us for assistance.
Sizing for headwear is head circumference about 2cm above your ears. If you don't have a tape measure, use a length of string and measure the string.
*Soft Cap Mortar Board Size cm
Hard Cap Mortar Board Size cm
Bonnet Size cm
Small 51 - 55
51
51


52
52


53
53


54
54
M

edium 55 - 58

55
55


56
56


57
57
Large 58 - 61
58
58


59
59


60
60
Extra Large 61 - 62
61
61
Extra Extra Large 62 +
62
62


NA
63
*Our soft cap mortars are slightly elasticised so there is some allowance between sizes. If you are in-between sizes, always go for the larger size.
Keep in mind that all head shapes are different and this will affect sizing and fit. If you are unsure, just remember you can exchange your headwear according to the terms and conditions on our website.
Our select fabrics include polyester, wool/poly blend or superfine wool.
Polyester:
Our most popular and affordable gown fabric
Yarn originally developed in Australia
Lightweight, easily worn over existing clothing
Comfortable in both humid and cool climates
Travels well, is crush resistant
Matt-finish for a smart, dignified look
170gsm, selected by us for the perfect weight and drape of academic dress
Used for our own hire stock of gowns, fabric will store brilliantly
Recommended for bulk stock
Wool/Poly Blend:
An affordable alternative to pure wool
Generally 80% wool and 20% polyester
Breathable and lightweight
Comfortable in both humid and cool climates
Dry clean only
Travels well, is crush resistant
Matt-finish for a smart, dignified look
Selected by us for the ideal weight and drape of academic dress
Pure Wool:
A favorite for academics and professionals
Superior choice of fabric
Select 100% superfine 'cool' wool
Superfine 'S' value 120 - refers to the fineness of the wool fibre
Execellent breatheability and lightweight
Comfortable in both winter and summer, humid and cool conditions
Feels wonderfully smooth and soft to the touch
Dry clean only
Excellent for travel, crease resistant
Matt-finish for a smart, dignified look
Selected by us for the ideal weight and drape of academic dress
*Note: The colour and design of your PhD gown may differ to what is below, however, how you wear your PhD regalia is essentially the same.
To wear your PhD Gown: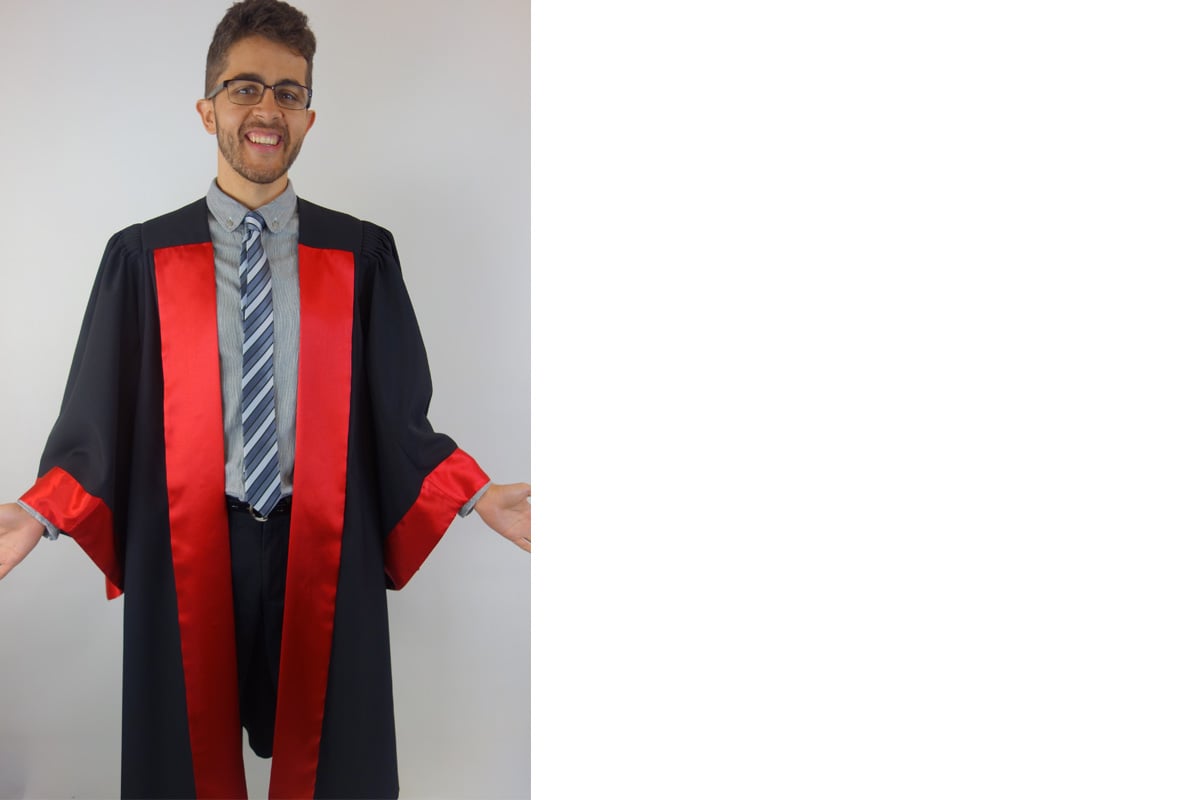 Wear your PhD gown like a coat - simply place your arms through the sleeves, and wear the gown OPEN at the front.
To wear your hood: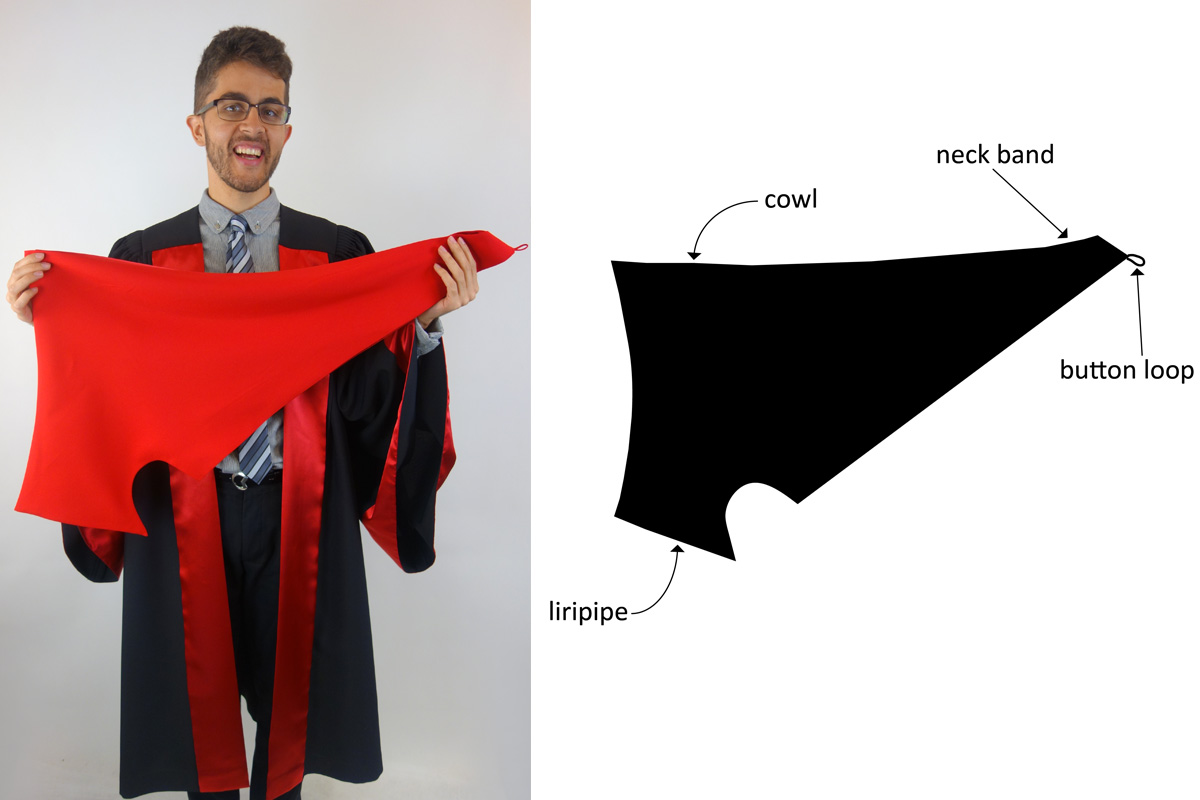 Hold the hood out in front of you, as above, noting the neck button and loop.
(The following may be a different colour to your hood, but how you wear the hood is still the same)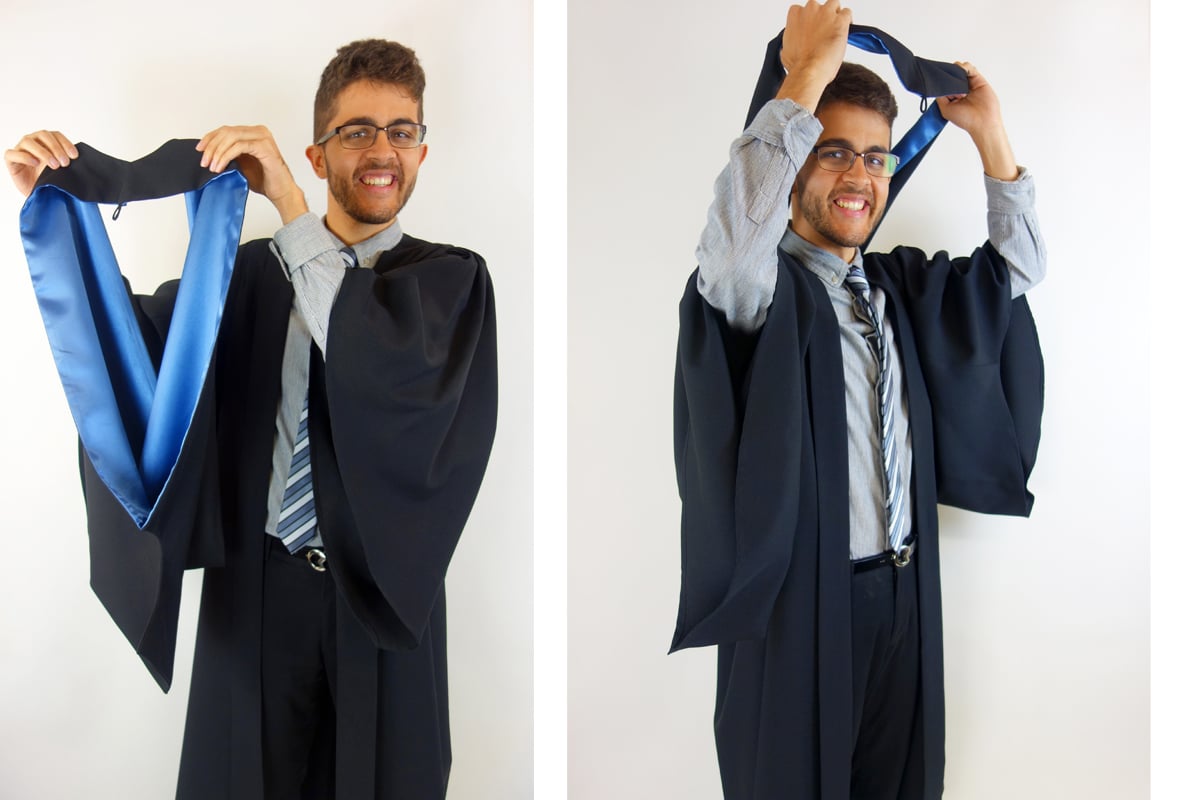 Open the hood and lift the neck band over your head.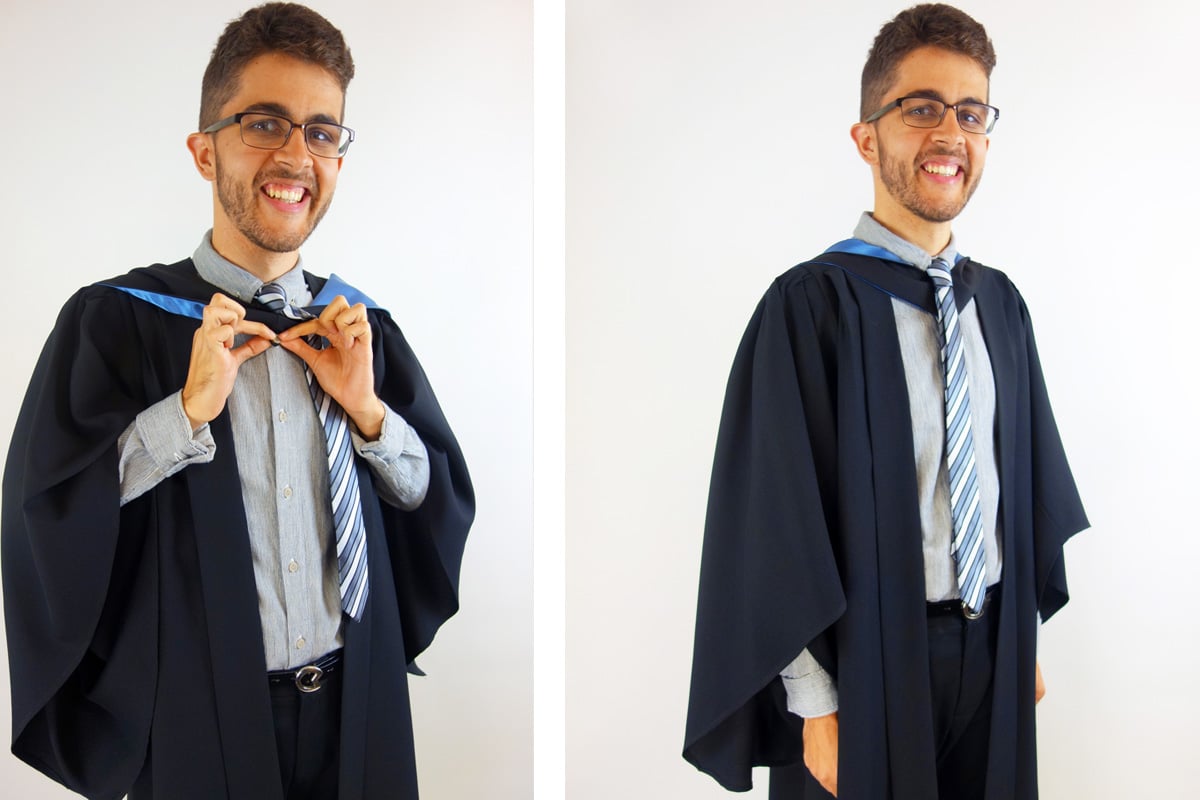 Now the neck band is in place, you can fix the button loop to your clothing.
(Back to the PhD hood colour!)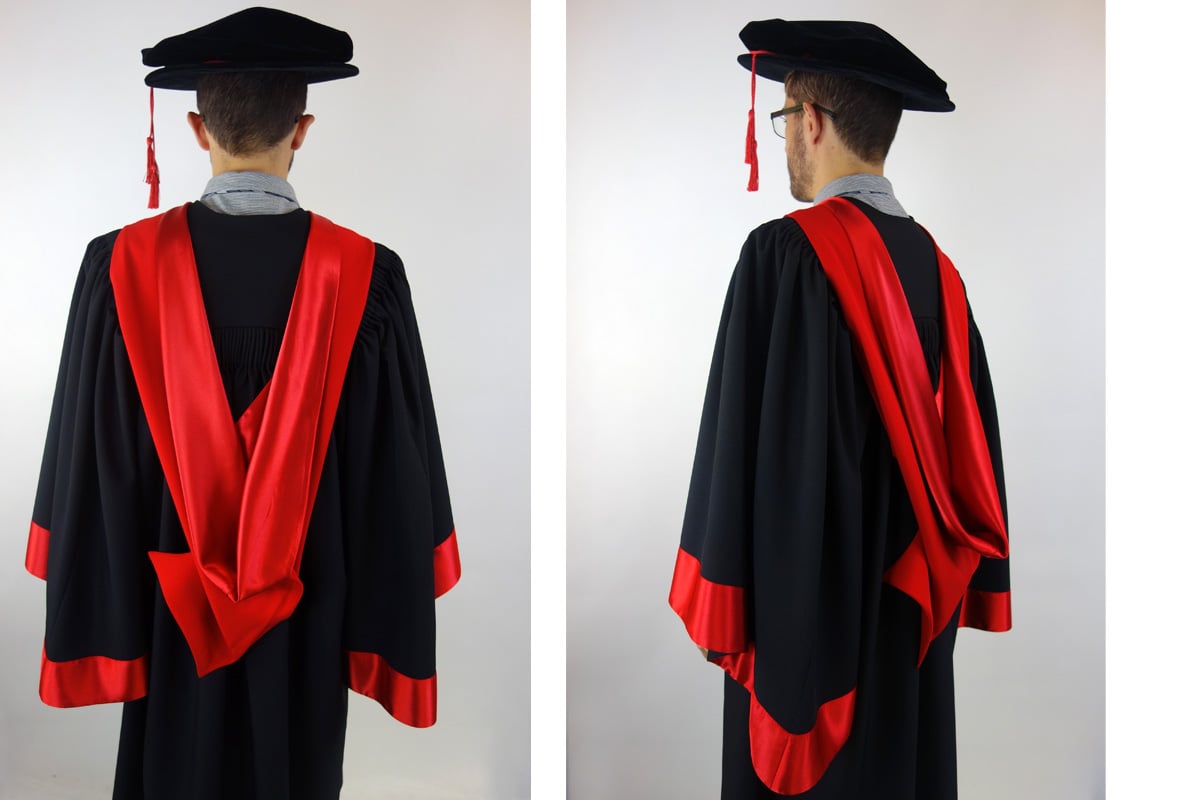 The hood drapes down your back. Some of the inside colour is exposed.
To wear your bonnet: The bonnet should sit flat on your head (not fluffed up like a chef's hat!) The tassels drape to one side as determined by your university.
Be sure to follow the laundering instructions on the care label of your garment.
Our garments come to you pressed and ready-to-wear with minimal creasing from freight. However, we do recommend hanging your garment when not in use and if required, gently iron or steam your robe. (Do not put an iron directly onto any satin lining or facing!)
Every George H Lilley Regalia gown comes with a complimentry robe bag. We recommend using this bag for storeage and travel. Allowing your garment to air regularly will assist to keep your gown in best condition.
Particular care is required if your garment has satin linings or facings. In this case, we recommend that your academic regalia is worn in ceremonies only. Avoid eating or drinking while wearing your regalia as the satin may stain. Take care when handling as pinning or your fingernails could damage the fabric.
If at any time you are not sure on the best of care for your garment then please contact us, the manufacturer, for advice.
Need Help?
Your enquiry is most welcome - our pleasure to be of service!