Graduation Mortar Board - Hard Cap
Graduation Mortar Board - Hard Cap
$75.00
A mortar board is also known as a trencher or graduation cap. 
This is a traditional hard-crown mortar board, where the cap is rigid, and sizing is according to centimetre circumference around your head - see our sizing assistance below.

A hard-crown mortar board is the original, iconic type of academic and graduation head wear.

Features a pointed hard crown and wool felt finish. A thick black tassel suspends from the centre top of the square board.  Our hard crown mortar boards have beautifully mitred corner stitching and are exceptional quality. Made using Australian wool felt. 
Refer to how to wear information below.
Sizing for headwear is head circumference about 2cm above your ears. If you don't have a tape measure, use a length of string and measure the string.
*Soft Cap Mortar Board Size cm
Hard Cap Mortar Board Size cm
Bonnet Size cm
Small 51 - 55
51
51


52
52


53
53


54
54
M

edium 55 - 58

55
55


56
56


57
57
Large 58 - 61
58
58


59
59


60
60
Extra Large 61 - 62
61
61
Extra Extra Large 62 +
62
62


NA
63
*Our soft cap mortars are slightly elasticised so there is some allowance between sizes. If you are in-between sizes, always go for the larger size.
Keep in mind that all head shapes are different and this will affect sizing and fit. If you are unsure, just remember you can exchange your headwear according to the terms and conditions on our website.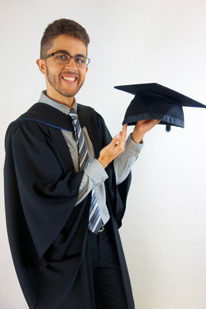 How to Wear Mortar Board 1/4
The 'crown' or cap-part of your mortar board needs to sit snug over your head. First, find the deeper end of the cap. This deep or long end goes to the centre-back of your head. The shorter or shallow part of the cap goes to the centre front of your head.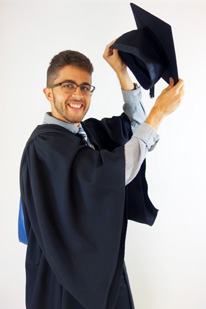 How to Wear Mortar Board 2/4
So now place the cap over your head with the deep end to the back, and the shallow end of the cap to the front.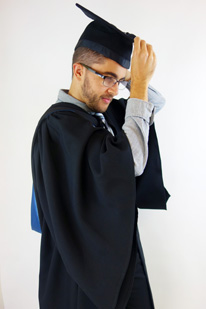 How to Wear Mortar Board 3/4
Pull the cap down around your head so that it feels snug and secure.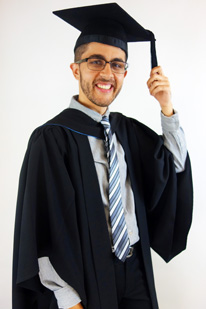 How to Wear Mortar Board 4/4
The square part of the cap should be flat and parallel to the floor. The tassel will hang to the side of your head. Your university will determine which side the tassel should drape.
Need Help?
Your enquiry is most welcome - our pleasure to be of service!